June 18, 2008
Llama Diaspora
Remember how I said the other day that Orgle Manor had a crazy schedule coming up shortly? Well, it's heeeeeeeere.
I have to go jump on a plane in a little while and wing my way out to the Nation's heartland. Won't be back until Friday evening.
Saturday morning, the Missus and I drive the elder two Llama-ettes into the wilds of southwestern Pennsylvania to deposit them at camp for two weeks at a place that seems to specialize in round-the-clock sports and Bible-thumpin' (snake-handling is extra).
Sunday morning, the Missus and the youngest Llama-ette clear off to visit her parents in Connecticut for two weeks.
Monday, I'm outta here again on yet another business trip, coming back either Tuesday, Wednesday or Thursday, depending on the ever-shifting sands of our schedule. This is the first of three Mondays in a row that I'll be on travel, and I'll be awfully glad when all that flying is over and done with because mayun are my arms getting tired! (Ba-DUM-bah.)
How we're going to get everyone back home is a logistical problem we have not completely sorted out yet.
The way I see it, the good news is that once all this craziness is finally passed, we'll be within reasonable anticipatory pleasure range of vacation: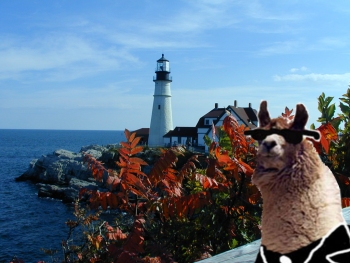 In the meantime, posting is going to be extremely sporatic
Posted by Robert at June 18, 2008 09:36 AM | TrackBack