June 17, 2008
Sir Walter Scott: Souvenir Vulture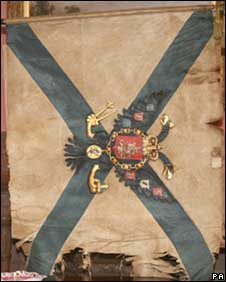 As it happens, the anniversary of the Battle of Waterloo is tomorrow. But Steve-O just sent me this article which is worth putting up in advance:
Flags from the battlefield at Waterloo have been found in a cupboard at the home of Sir Walter Scott.

The four banners, which date from 1815, were discovered by trustees sorting through Abbotsford, Scott's home near Melrose in Roxburghshire.

The novelist brought them from the scene of the battle, which he visited after hearing of Napoleon's defeat.

The Abbotsford Trust, which runs the house, hopes the standards can be restored and put on public display.

Very fragile

Jacquie Wright, executive manager of the trust, said: "We were very excited to find the banners. They are very rare.

"As you can imagine, they have been lying in a cupboard since 1815 rolled up in bits of paper so the material is very fragile.

"He collected other things, which were on show because he put them on show but these things were actually put away in the cupboard.

"We would absolutely love to have them on display one day."

She added: "It may be that one of the family knew that the banners were there but we had no idea of their existence until just recently when we unravelled them."

Scott, author of classics such as Waverley and Ivanhoe, was interested in military history and collected many relics.

Rob Roy's gun and Montrose's sword are among the items on display at Abbotsford.

Scott was allowed on to the battlefield at Waterloo and took three French and one English banner, some of which have bullet holes through them.

Inspired by the battle, he wrote a poem "The Field Of Waterloo".
Neat.
In case you're curious, here's a sample of "TFOW":
Far other harvest-home and feast,
Than claims the boor from scythe released,
On these scorched fields were known!
Death hovered o'er the maddening rout,
And, in the thrilling battle-shout,
Sent for the bloody banquet out
A summons of his own.
Through rolling smoke the Demon's eye
Could well each destined guest espy,
Well could his ear in ecstasy
Distinguish every tone
That filled the chorus of the fray -
From cannon-roar and trumpet-bray,
From charging squadrons' wild hurra,
From the wild clang that marked their way, -
Down to the dying groan,
And the last sob of life's decay,
When breath was all but flown.

You can go here to read the rest if you want, but frankly I'm not much of a fan of Scott's style.
In fact, I much prefer the summation of the battle given by the Iron Dook himself: "It has been a damned serious business - Blücher and I have lost 30,000 men. It has been a damned nice thing - the nearest run thing you ever saw in your life...By God! I don't think it would have done if I had not been there."
More tomorrow, hopefully.

Posted by Robert at June 17, 2008 04:45 PM | TrackBack