June 10, 2008
Gratuitous Nats Posting
I've been on travel and sooper-busy the past few days, so last evening was the first time I got the opportunity to catch a Nats game in a while. Imagine my surprise to see all the players decked out in green hats: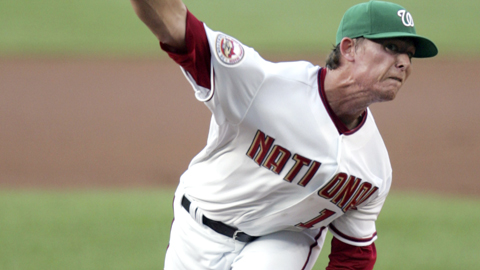 I had no idea what this was all about. Indeed, the only plausible explanation I could come up with was that the Nats had thrown their support behind the Celtics in the NBA Championship, but that didn't seem very likely.
A quick check on the intertubes today reveals the explanation. As with most stupid ideas, the root cause is political:
WASHINGTON -- Major League Baseball's most eco-friendly park will get a little more so on Wednesday when the Washington Nationals host "Get Your Green On," a one-night program encouraging their fans to be more environmentally conscious.

The first 5,000 fans who exit the Navy Yard Half Street MetroRail Station will receive a loaded farecard that will pay their way back home, and fans who enter the Half Street entrance in center field will walk up a green carpet to the gate.

In addition, Nationals players and ushers will wear green hats for the game, and the Nat Pack & Racing Presidents will wear green shirts in the spirit of the event.

Planet Green, a new TV network dedicated to ecoconscious living, will launch its first broadcast from the park as well. Discovery Corporation president & CEO David Zaslav will throw out the first pitch and Eileen O'Neill, Planet Green president and general manager, will bring the lineup card out before the game.

Adding star power to the festivities, famed chef Emeril Lagosse will begin the game in in the nightly tradition by saying, "Washington ... Let's play ball!"
Sigh. Guys? Lose the freakin' green hats. Combined with your red and white home uniforms, you look like Santa's Elves. And considering you've won 2 of your past 11 games and are 14 games out of first, that would be Santa's AA club as well.
Posted by Robert at June 10, 2008 10:16 AM | TrackBack