May 30, 2008
Just Settin' On The Porch Weekend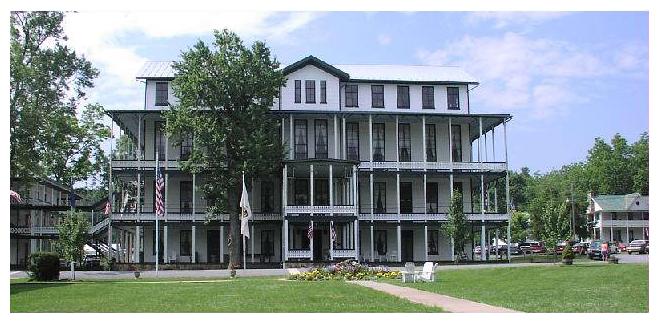 This evening Robbo and family will be heading off for the annual trip to Shrine Mont, the Episcopal Diocese of Virginny retreat out in the Shenandoah Valley. It's a very relaxing place where one can turn the kiddies loose to do pretty much whatever (most of it involving the large pond on the grounds) while oneself basically sits about with an adult beverage in hand and gossips.
All the parishes in the diocese are assigned specific weekends at Shrine Mont for their annual retreats. RFEC always goes the weekend after Memorial Day. And it always rains. (Forecast for tomorrow? True to form, cloudy with a 70% chance of showers and thunderstorms.)
No doubt you're saying, "But Tom - why are you going to an Episcopal retreat?" Well, for the family, of course. And because I happen to like the place. And this year, my Catholic sponsor - whose wife also attends RFEC - has been persuaded by my ecumenical example to come on out with his family, too. I reckon that the two of us can sit around and complain about the lack of fish on tonight's menu.
UPDATE: Just because it's Friday -
Posted by Robert at May 30, 2008 11:31 AM | TrackBack