May 12, 2008
Happy Birthday, Kate!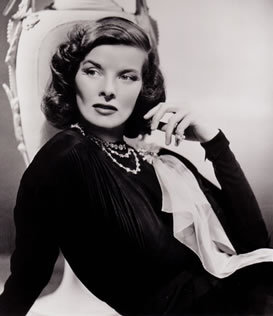 "That pedestal comfortable enough, Miss Hepburn?"
The immortal Katharine Hepburn was born this day 101 years ago in Hartford, Connecticut.
Kate has always been something of a paradox to me. As regular Llama readers know, we're rayther a red-blooded crew around here, and Robbo's list of stage and screen, ah, crushes is mighty long. [Ed. - Indeed, anything in a skirt, one might say.] Quiet, you.
Hepburn is right up at the top of that list, yet she is one of the very few on it who does not excite what one might call the animal instincts. You (or at least I) can't imagine touching her in any way. Instead, her attraction is pretty durn near sexless. And yet, as I say, very powerful. Hence the paradox.
Posted by Robert at May 12, 2008 09:31 AM | TrackBack