May 10, 2008
LMC Nineties Retro Reunion--the Gals of Melrose Place
This is the first of a series which examines the ladies of that quintessential nighttime soap opera aimed at the twenty-somethings. My favorite: Daphne Zuniga who played Jo:

She seems to have survived her departure from MP with steady work on the small screen.
Yips! from Robbo: Since it's going to come out eventually any way, let me just say for the record here and now that I was always in the Heather Be Thy Name camp.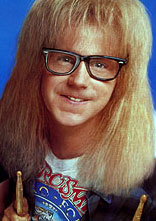 Robbo back in the day.

Posted by LMC at May 10, 2008 02:25 PM | TrackBack