May 09, 2008
Gratuitous Nationals Posting
The eldest Llama-ette and I are watching the Nats play the Marlins this evening. We're keeping our hopes up regarding the 7th-Inning stretch: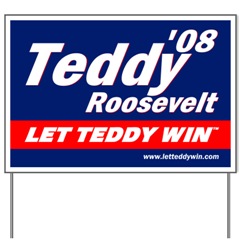 Heh. The Nats fans in the audience will know what I'm talking about. The rest of you should go here. And anybody who wants some pro-Teddy gear should go here.
UPDATE: Well, I dunno who won the presidential race, but the Nats couldn't catch the Marlins up. Too bad. Perhaps it was the cadaverous appearance of Alan Greenspan - flanked by Judy Woodruff and Andrea Mitchell - in the seats behind home plate that put a hex on the thing.
For those of you unfamiliar with the local media market, some of the Nats' games are broadcast on the Mid-Atlantic Sports Network, or "MASN", and others are broadcast on the local UPN affiliate, WDCA-20. Whenever they're playing on DC-20, the announcers (play-by-play guy Bob Carpenter and color commentator Don Sutton) are forced to play up some new UPN show featuring an odd abomination of a fellah by the name of "Flavor Flav". I often wonder what's going through their heads as they read off the copy on Mr. "Flav". I can only assume that their enthusiasm is....feigned.
Posted by Robert at May 9, 2008 07:40 PM | TrackBack