April 03, 2008
Gratuitous Nats Posting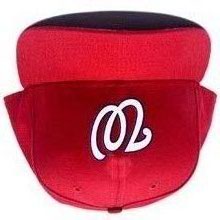 What better way to unclench after a brutal three day bizness trip than to watch the Nats go to 3-0 in a brilliant defensive battle against the Phillies more characteristic of September pennant races than early seaon shaking out? (Boo-rah to Tim Redding for his pitching!) The Nats go for the sweep of Philly this afternoon.
And the new hero of Dee Cee? Ryan Zimmerman. He's been a team leader, but this year looks to be something special - two 1-0 victories, both off Z-man home runs, and last night he was stopping 'em at third like human fly-paper. The kicker? The guy's only 23.
Sure, it may come crashing down at any time, but at the moment, we own the National League East.
GO NATS!!!
ME AND MY BIG MOUTH UPDATE: Nats lose to the Phillies in 10 on a ($#%&*!!bases-loaded walk by Colome. Never mind - we're still on top of the division for the moment.
Posted by Robert at April 3, 2008 09:23 AM | TrackBack