March 25, 2008
That's My Church! - Easter Edition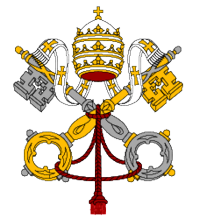 Yes, indeedy. On Saturday, March 22, 2008, during the Easter Vigil, I was received into the Roman Catholic Church, the most recent and surely one of the least of her members. After twenty-odd years of dithering, Robbo the Llama Butcher is now an O-fficial Catholic.
The ceremony itself was magnificent, with all the smells and bells, chant, Latin and 17th Century musick you could wish. (Plus, I nearly set one of the priests on fire with my candle while kneeling at the altar!) For my poor wife and mother, who bravely attended and patiently sat through the whole thing seated behind me, I expect that the proceedings dragged for what seemed like an eternity, but for me, the nearly three hours seemed to go by in a flash.
So the million dollar question is...now what? At the moment, of course, I'm still getting used to the idea of being an RC and will probably take some time just to get into the swing of things. But I already sense that I didn't finally chuck myself into the Tiber just to go to Mass once a week, get a couple coo-el Saints' names and not eat meat on Fridays - there's some higher purpose to all this (I hope) and once I've had a bit of a rest, I'll need to sit down and start figuring it out.
In the meantime, enormous thank you Yips! go out to all of you who have followed along on this little adventure. The outpouring of good faith, even from those of you critical of my move, has been extremely gratifying. And the notes and gifts I've received from some of you have been quite overwhelming. (Individual thank you letters will be going out this week, of course.) As I may have mentioned before, although the Anglican implosion and Dad's death last year certainly propelled me to making this move now, six months' worth of pondering has made me realize that they were not the reasons for my switch, and furthermore that I would have done so at some point anyway. This is something that has been a looooooong time coming. The upshot is that I go into it with none of the bitterness, axe-grinding, and how-do-you-like-me-now rebounding characteristic of some converts, because in the end I'm not fleeing anything, but instead - as so many people have put it over the past few days - simply coming home. And I can't tell you just how happy that makes me. And I'm also glad that so many of you - even those who have absolutely no desire to follow - are happy on my behalf. As I say, thank you.
Posted by Robert at March 25, 2008 09:46 AM | TrackBack