March 17, 2008
Happy Birthday, Snake Plissken!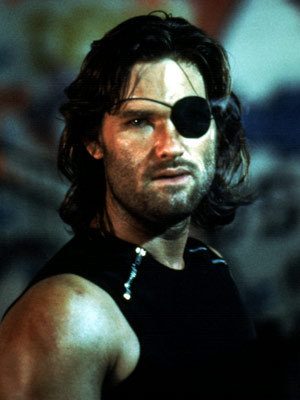 Yes, Steve-O's perennial presidential write-in nominee Kurt Russell was born this day in 1951 in Springfield, MA.
I've already caused plenty of rancor around here recently so I won't go into it in depth, but I can't resist mentioning again the fact that I've long held a theory that Kurt Russell and Patrick Swayze are, in fact, the same person. (Before you scoff, name a single picture they've starred in together. Well? Well?)
So what's your favorite Kurt flick? Personally, I've always liked Tombstone because of its rocking ensemble cast. [Ed - yeah, the fact that Dana Delany is shmokin' has absolutely nothing to do with it.] Shut up. However, I must confess that Executive Decision ranks up there as well. I'm sure the LMC will note with approval the performance of Halle Berry. However, my favorite part is the bit where Steven Seagal get sucked out of a plane at 40,000 feet with no visible means of support (ha!). Also, let's hear it for David "Hercule Poirot" Suchet, who provides a convincing role-model for tubby, middle-aged terrorists everywhere.
Posted by Robert at March 17, 2008 03:35 PM | TrackBack