March 05, 2008
Happy Birthday, Kent Tekulve!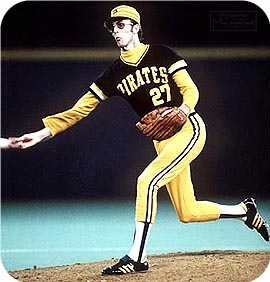 Born this day in 1947. Here are some stats from Wikipedia:
[A] former right-handed relief pitcher in Major League Baseball who played from 1974 to 1989 for the Pittsburgh Pirates, Philadelphia Phillies and Cincinnati Reds. He was known as a workhorse relief pitcher who led the major leagues in games pitched four times, appearing in 90 or more games three times. He holds the National League record for career innings pitched in relief (1,436⅔), and formerly held the major league record for career relief appearances; his 1,050 career games, all in relief, ranked second in major league history to Hoyt Wilhelm's 1,070 when he retired.

Tekulve and Mike Marshall are the only pitchers in baseball history to appear in 90 or more games more than once......[Tekulve's] best season came in 1979 when he appeared in 94 games, posting a 10-8 won-loss record and 31 saves. He also saved three games in the World Series that year as the Pirates defeated the Baltimore Orioles. He later led the NL in games pitched with 90 in 1987 while pitching for the Phillies at the age of 40. Tekulve owns the career record for most appearances without making a single start. In 1986 he broke Roy Face's NL record of 846 career games pitched; he held the record until John Franco passed him in 2004.
I was a Pirates fan as a kid and watched Tekulve pitch a lot. What I chiefly remember him for, of course, was his crazy submarine pitch, which indeed set up one of my earlier moral dilemmas: how to reconcile the fact that I enjoyed the success of his pitching style while, at the same time, knowing fully well that it Just Wasn't Right.
Posted by Robert at March 5, 2008 09:13 AM | TrackBack