March 04, 2008
Gratuitous Civil War Geekery Posting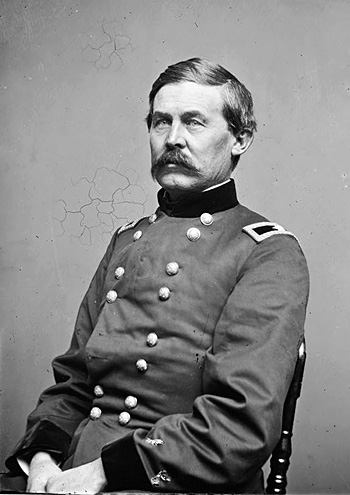 Happy birthday, Brigadier Gen. John Buford, born this day in 1826 in Kentucky.
I read a biography of Buford a few years back and was a bit surprised at how....dull much of his military career was. Even though he served on the frontier for a number of years, he kept getting assigned to quartermastering jobs because he was much more intelligent and harder working than many of the other officers.
Most Civil War buffs (at least those of Unionist leanings) will agree, however, that he just happened to be the right man at the right place at the right time and, most importantly, knew it on that hot July morning in 1863. Here is an excerpt from his report on the battle:
By daylight on July 1, I had gained positive information of the enemy's position and movements, and my arrangements were made for entertaining him until General Reynolds could reach the scene.

On July 1, between 8 and 9 a.m., reports came in from the First Brigade (Colonel Gamble's) that the enemy was coming down from toward Cashtown in force. Colonel Gamble made an admirable line of battle, and moved off proudly to meet him. The two lines soon became hotly engaged, we having the advantage of position, he of numbers. The First Brigade held its own for more than two hours, and had to be literally dragged back a few hundred yards to a position more secure and better sheltered. Tidball s battery, commanded by Lieutenant Calef, Second U.S. Artillery, fought on this occasion as is seldom witnessed. At one time the enemy had a concentric fire upon this battery from twelve guns, all at short range. Calef held his own gloriously, worked his guns deliberately with great judgment and skill, and with wonderful effect upon the enemy. The First Brigade maintained this unequal contest until the leading division of General Reynolds' corps came up to its assistance, and then most reluctantly did it give up the front. A portion of the Third Indiana found horse-holders, borrowed muskets, and fought with the Wisconsin regiment that came to relieve them. While this left of my line was engaged, Devin's brigade, on the right, had its hands full The enemy advanced upon Devin by four roads, and on each was checked and held until the leading division of the Eleventh Corps came to his relief.

After the fall of General Reynolds, whose advance troops partially drove back the enemy and made heavy captures of prisoners, the enemy brought up fresh troops, and engaged General Doubleday's command, which fought bravely, but was greatly outnumbered and forced to fall back. Seeing our troops retiring, and their need of assistance, I immediately rushed Gamble's brigade to Doubleday's left, and dismounted it in time to render great assistance to our infantry, and to check and break the enemy's line. My troops at this place had partial shelter behind a low stone fence, and were in short carbine range. Their fire was perfectly terrific, causing the enemy to break and rally on their second line, which made no farther advance toward my position.

Shortly after this, I placed my command on our extreme left, to watch and fight the enemy should he make another attack, and went to Cemetery Hill for observation. While there, General Hancock arrived, and in a few moments he made superb disposition to resist any attack that might be made.
Posted by Robert at March 4, 2008 01:11 PM | TrackBack