February 21, 2008
A Ball Park Buck Rodgers Would Love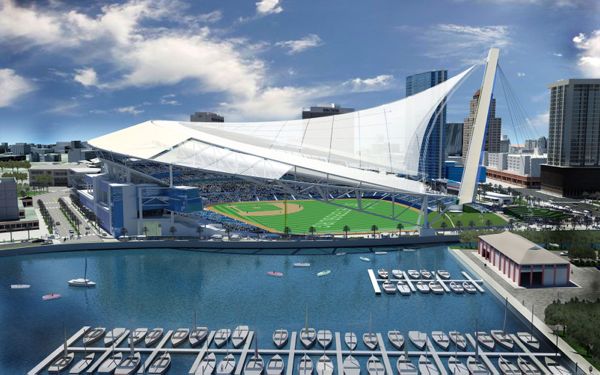 The Tampa Bay Devil Rays have unveiled the design for a new field incorporating a giant, retractable sail.
In a news conference held in the outfield of Al Lang Field, team officials, Florida governor Charlie Crist, and MLB president and chief operating officer Bob DuPuy praised the design of the state-of-the-art ballpark, which will include a unique retractable roof made of a weatherproof fabric that will be pulled along cables suspended between arches on one end and a central mast structure on the other.

"This is one of the most exciting things I've ever seen," said Crist, who owns a condominium that will have an unobstructed view of the outfield.

Just two days before December, Crist and the other officials sweated in suits and ties on a dais located just a relay throw from the Mahaffey Theater, site of Wednesday night's CNN/YouTube debate among Republican presidential hopefuls. It was a reminder of how sultry conditions could be during late-summer games.

The roof, likened to a giant sail, will produce an umbrella effect, retaining the open-air feel. Rays officials, working with HOK Sport architects, deemed a traditional retractable roof impractical because of the small site and undesirable, since it would block the water views.
My guess is that the thing is going to produce something more like a wind-tunnel effect. Wind pushing on the sails of a boat make it go through the water. Where's the wind going to go if the boat won't move? Swirling all over the diamond, that's where.
I have to confess that I'm not exactly in love with the Nats' new stadium, which seems, well, kinda boring. But at least it doesn't look like this thing.
Posted by Robert at February 21, 2008 04:17 PM | TrackBack