February 19, 2008
Gratuitous Domestic Posting (TM) - "Weekend of 'Auuugh!'" Wrap-Up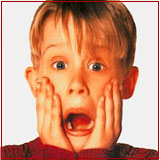 Veeeeeery busy today, so only a brief summary of my four straight days dealing with the Llama-ettes single-handedly: I'm happy to report that there was no permanent structural damage and only limited bloodshed.
Indeed, the only real trouble I encountered was when I went to make the gels' lunches this morning. Absent-mindedly reverting to the diet of my own school days, I was just reaching for the sandwich-spread-of-death-formerly-known-as-peanut-butter when I was brought up short by the klaxon-like calls of the gels bursting out in alarum about kids at St. Marie of the Blessed Educational Method who were so sensitive to the stuff that apparently you couldn't even say "peanut butter" around them lest they burst out in life-threatening cases of hives and respiratory failure.
I confess that I was momentarily thrown. However, the discovery of stashes of yoghurts, apples and left-over mac-n-cheese soon settled the lunch diet issue.
So all I have left to do this evening is pick the gels up at their little friend's house on the way home, cart them off to Orgle Manor and summarily put them to bed (they having been fed at their friend's.) And then? Mommy comes home!
Yip! Yip! Yip!
Posted by Robert at February 19, 2008 03:06 PM | TrackBack