February 09, 2008
"Good Morning! Good Morning! Good Morning-ah!" ***
At crack of dawn this morning:
"Mom! Dad! There's a dead mouse in the kitchen and it's beheaded! Blood everywhere!"
Yum.
I should note I am very proud that instead of panicking, the gels dealt with the mess themselves, picking up the remains with paper towel and swiffering the entire area.
This is the second mouse in three nights. We usually have a little grey variety living within the walls and floorboards of Orgle Manor, but these two have been larger and browner. First time I can recall field mice in the house. Must be Global Warming or sumpin'.

***Spot the quote. My apologies if the transcription isn't completely accurate.
CAN I HAZ MOWSBRGRZ? UPDATE: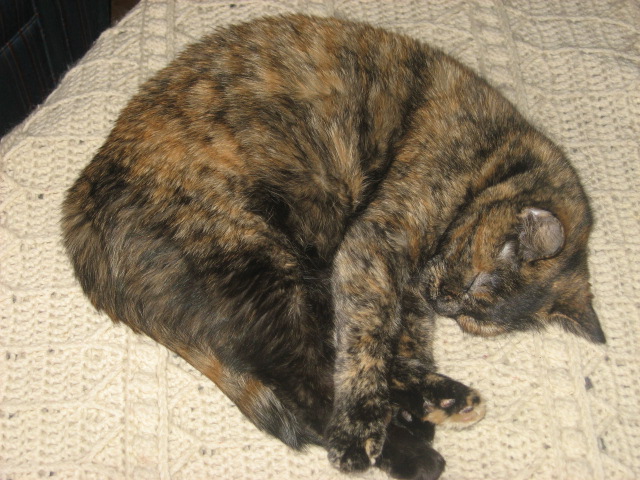 Yes, Mother of Gawd, it's cat-blogging. This is Bella, the younger of our two cats and the principal mouser of the household. I've been having problems with the comments all morning, so I'll just repeat here that although she's cute in an ugly way, and although she loves to curl up in my lap and purr loudly, I never lose sight of the fact that she would cheerfully take my head off if I were the size of a mouse.
UPDATE DEUX: Still having trouble with the quote? Here's a hint: Who would out-rank Corporal Salt?
CHAGRINED ANSWER-REVEALING UPDATE:
Good Lord - Am I that old?
Posted by Robert at February 9, 2008 08:55 AM | TrackBack