February 07, 2008
The Archbishop Surrenders the Citadel
I've seen this floating about these here internets today: Rowan Williams welcomes pre-emptively surrenders to Sharia Law in Britainistan the U.K.:
The Archbishop of Canterbury says the adoption of certain aspects of Sharia law in the UK "seems unavoidable".

Dr Rowan Williams told Radio 4's World at One that the UK has to "face up to the fact" that some of its citizens do not relate to the British legal system.

Dr Williams argues that adopting parts of Islamic Sharia law would help maintain social cohesion.

For example, Muslims could choose to have marital disputes or financial matters dealt with in a Sharia court.

He says Muslims should not have to choose between "the stark alternatives of cultural loyalty or state loyalty".
I suppose that by "maintain social cohesion," the Archbish is trying to politely say, "keep Johnny D'himmi from blowing up St. Paul's."
Let me be absolutely brutal about this: It is a simple fact of history that a society which no longer believes in itself dies. Sometimes it simply withers away. Usually, it is devoured by another society that very much does believe it itself. Hint: there's no isolated withering going on here.
As much as I admire much of what Britain has stood for over her history, when I read of this kind of tripe coming out of the mouths of her leaders (and Church politics aside, the Arch-Freakin'-Bishop of Canterbury is supposed to be one of the mainstays of that society), I'm not really sure any more that she isn't about to get exactly what she deserves.
Once the Caliphate is established, we'll see just how much the new state will be willing to grant autonomy to those not willing to go along with its cultural mandates as well. My guess? It'll bring a whole new meaning to the policy of "hands off".
Yips! (for first sighting) to TitusOneNine.
WELL AT LEAST THE ARCHBISHOP DOESN'T THINK HE'S A COWGIRL YIPS from Steve-O: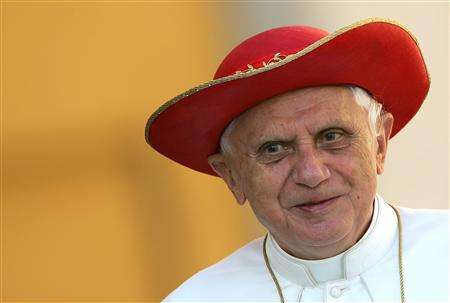 Giddyup!
I guess papal infallibility doesn't extend to fashion choices, either.
And yes, I'm going to pshop that picture together with Uma Thurman next time. The time after that? It's with Rosie. Them's the stakes.
Weapons-Free Yips! back from Robbo: Well, I thought I'd made it clear that I was commenting on the collapse of Brit culchah, not stirring up the Ecclesiastic Authority debate again. However, as Steve-O has run up the black flag, you may fire at will.
YEAH, I WENT THERE YIPS from Steve-O: Consider it nailed to the mast.
Mr. Chekov, set phasers on "mirth"
Puzzled Yips! Back from Robbo: No, folks, I dunno where he's going with that one either. And ironically, if you believe Mark Steyn's data on the shifting demographics and declining native populations across Europe, this clip becomes funny in a way perhaps not intended by its writers.
BTW, and this has nothing to do with religious opinion, but I've never understood why people fall all over themselves about this clip. The idea is funny for about the first five seconds, but then the Team proceeds to drive it into the ground with a sledgehammer, a flaw notable in most of the humour in this movie.

Posted by Robert at February 7, 2008 12:44 PM | TrackBack