December 22, 2007
I Got A Baaaaad Feeling About This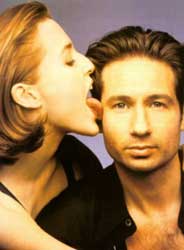 Em, Gillian Anderson will start hosting Masterpiece Theatre in January, kicking off the new season with a series of dramatizations of all six of Jane Austen's novels.
I gave up on MPT years and years ago, but even so, the press release announcing the program's overhaul fills me with apprehension:
In January, 2008, Masterpiece Theatre will introduce a new look, new scheduling, and the first of three new hosts for 2008. Gillian Anderson, well known to Masterpiece Theatre fans for her Emmy- and Golden Globe-nominated performance as Lady Dedlock in Bleak House, will make her debut as the host of Masterpiece Classic on The Complete Jane Austen, the highly anticipated showcase of all six of Austen's novels, premiering Sunday, January 13, 2008 on PBS.

"Gillian is the perfect choice to represent the new Masterpiece Classic," says executive producer Rebecca Eaton. "Through Bleak House, we learned just how passionate she is about the kind of programming we offer. And she's incredibly versatile: How many other actors would choose to go from The X-Files to Charles Dickens?"

"I am a huge supporter of Masterpiece Theatre and the quality and integrity of its programming," said Anderson. "And if my hosting the first season brings a new generation of viewers to the classics, then I'm proud to be a part of it."

A new Masterpiece Classic host is not the only change coming to the series in January. Viewers can look forward to a schedule that breaks the year into three "seasons," each with its own host, stunning graphics, and fresh take on the series' famous theme music. In winter and spring, Masterpiece Classic will feature signature period dramas. In summer, Masterpiece Mystery! will present the best British mysteries, and in fall, Masterpiece Contemporary will show dramas set in modern times.

"Our viewers told us that they miss having a host to lead them into the programs," said Eaton. "In 2008, we're going a step further, bringing on three hosts to the series — each with a true appreciation for the genre they represent. We'll also introduce a new, elegant on-air look, a redesigned, feature-rich website, and a schedule that will help make our content easier to find. What won't change is the caliber of our programming."
Um. Miss Austen could not be reached for comment.
And what is this "fresh take on the series' famous theme music" business. That theme, btw, is a fanfare written by a French baroque composer named Jean-Joseph Mouret. What are they going to do, score it for electric bass?

Posted by Robert at December 22, 2007 01:40 PM | TrackBack