December 20, 2007
WE INTERRUPT THIS OFFICE PARTY FOR A SPECIAL "HUH?" BULLETIN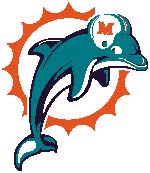 The Big Tuna is becoming a Dolphin:
Bill Parcells has officially joined the Miami Dolphins.

Parcells, 66, faxed a finalized copy of his contract to the Dolphins Thursday morning, according to a source close to the situation. Parcells is set to become the Dolphins' executive vice president for football operations.

The team was still not commenting on the issue as of noon, but a formal announcement was being planned.

He is scheduled to do an interview at 4 p.m. Thursday on ESPN's NFL Live. Parcells, currently a studio analyst for ESPN, is expected to remain with the network through the weekend games.

He is expected to come to South Florida for a formal introduction no earlier than Wednesday.
[Insert Keanu Reeves-like "Whoa" here.]
Speaking of the 'Fins, I am here and now issuing the OFFICIAL ROBBO THE LLAMA TRUTH OR DARE/HAIL MARY CHALLENGE: If.....I say IF the 'Fins manage the impossible and knock off the Pats this weekend, I, Robbo the LLama, will accept any posting dare that you can come up with. Picture or post, doesn't matter - You request it, I'll do it.
Drop your suggestions right 'cheer.
Yips! from Gary:
Sorry, Robbo. Looks like he ain't gonna be coaching, though. Kind of like "The Hobbit" without Peter Jackson directing. Oh well. Have some more of this monster egg nog my brother made with lighter fluid.**
**spot the quote
Posted by Robert at December 20, 2007 03:44 PM | TrackBack