December 17, 2007
Writer's Strike Update
Strike still on?
Yep.
You know what that means: our daily dose of Tina Fey/Liz Lemon.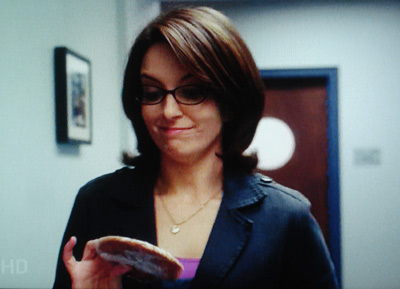 Mmmmm, cookie.
Denied fresh Tina/Liz, we'll have to get along with mere scraps. Here's "Ask Liz"
Yips! from Robbo: Show of hands for everyone else out there who wishes Steve-O would explain this whole Tina Fey thing. I'm not seeing it. And I certainly can't be the only one.
Head-scratching Yips! from Gary:
You're not, Robert. Don't quite get it myself. And I even share a birthday with her.
Granted she's bright, with a decent sense of humor. But about 2.5 minutes into that clip my eyes started to glaze over and a couple of average-looking women here in the office started to seem more palatable by comparison.
But if you like her, Steve, then of course we like her.
Yips! back from Robbo: Oh, yes, of course. We're sure she's very nice, Steve.

Posted by Steve-O at December 17, 2007 02:02 PM | TrackBack