November 14, 2007
He's Baaaaaaaack!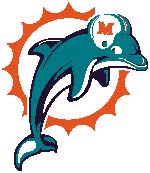 Okay, we're well past tragedy already, so I've got to decide whether to file this under farce or deux ex machina:
Ricky Williams has been reinstated by the NFL.

I told you in an earlier version of this post the reinstatement comes with stipulations: The stipulation is that Williams cannot play until the Nov. 26 game against Pittsburgh. That means Williams is out until Week 12.

Williams can, however, begin attending meetings, practicing and working out at the team's facility immediately.
The surprising part is that this news has me neither ROTFLMAO or curled up in the corner feebly twitching. Instead, I'm trying to figure out whether I'm just numbed to the whole business or whether I'm even beginning to do a bit of the football equivalent of beer-goggling. I mean, know what would be cool? Ricky suits up, plays the return game against the Pats and kicks their @()#$*)(#$)(*##(*&% record drive up their backsides.
Hey, it could happen.
Yips! to regular reader Mike for tossing the link in the Tasty Bits (TM) Mail Sack.
Posted by Robert at November 14, 2007 04:08 PM | TrackBack