September 25, 2007
Gratuitous Llama Dockyard Blegging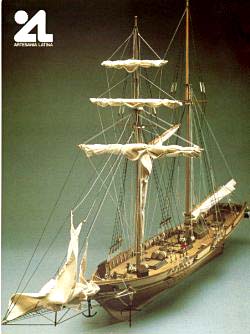 One of the things I've got back into recently is the construction of a model of the "Harvey", a Baltimore clipper built in 1847. I've had the kit for about 18 months now. While I started out strong laying the keel and the bulkheads, I got rayther bogged down in planking the hull. Regular readers will know that this has been a fairly turbulant and distracting year 'round Orgle Manor, so the ship has sat on the stocks for quite some time.
However, as I say, I've been devoting much more time to her lately, the result being that the hull planking (or the first layer, at any rate), is just about done and it will soon be time to start thinking about bulwarks, spill-channels and the like.
That's where the blegging comes in. In this kit, most of the pieces are pre-cut. Nonetheless, they are not pre-formed. The bulwarks, spill-channels and railing are straight. The sides of the hull to which they will attach are curved. My question: how does one curve fairly solid (say 2 or 3 mm thick or so) pieces of wood to make them conform to the shape of the hull? The directions - feebly translated from Italian - are fairly vague. I gather from additional research that one should soak the wood in water. But I don't know things like how long it should soak, whether water temp makes any difference, and whether there is anything else that ought to be added to the water to increase the wood's suppleness. Further, is it best to mount the wood while it is wet or to mold it and then let it dry out first?
Any advice from model/wood-working sharks out there would be greatly appreciated.
Posted by Robert at September 25, 2007 12:56 PM | TrackBack