September 21, 2007
Happy Birthday, Bill Murray!
Growing up as a teenager in the 1980's, Murray taught me two valuable lessons: the appeal of a wry sense of humor and the importance of being yourself and not caring what other people will think of you.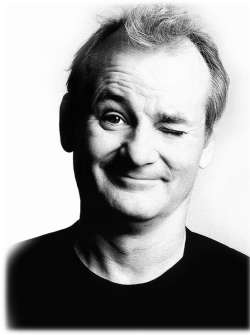 Submitted for your approval. Bill's two most inspirational speeches on film.
From "Meatballs":
And from "Stripes" (which kicks in at the 2:30 mark):
I'll leave it to you all to choose your favorite. Have a great one, Bill!
Yips! from Robbo: Aaaaand since we get an awful lot of google traffic from people who don't know the difference between Llama and Lama, here's another classik:
I'll light the fuse and stand back by saying that Bill's Spangler is about the only thing really worth watching in this flik.
Nit-picky Yips! back from Gary:
Actually, the name's Spackler...Carl Spackler. But I assume you got tripped up by the name of Bill's co-Ghostbuster Egon Spengler (not to be confused with noted German historian, Oswald Spengler. But that's a whole other post...)
Yips! from Robbo: Whoops! My dangerously shallow knowledge of cool is showing again. As Zaphod Beeblebrox said of the waiter at Milliway's, I'm so un-hip it's a wonder my bum doesn't fall off.
Posted by Gary at September 21, 2007 11:00 AM | TrackBack