September 17, 2007
Cool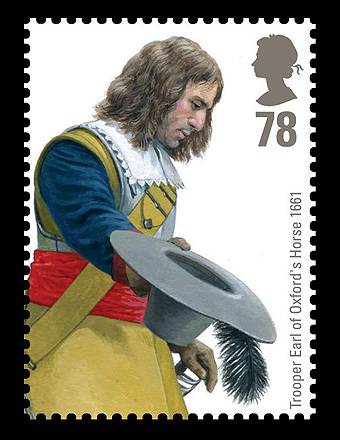 So how often do I get an excuse for posting pictures of Restoration cavalrymen?
The Royal Mail is issueing a new series of stamps commemorating British military uniforms:
From the flamboyance of a 17th-century cavalryman to the familiar camouflage of the modern-day soldier, the set shows almost 350 years of Army history. The stamps, which go on sale on Thursday, are the first in a series of three issues on a military theme. The Army set will be followed by RAF uniforms next year and Royal Navy uniforms in 2009.

On three first-class stamps, paintings by Graham Turner portray the 1999 uniform of an NCO in the Royal Military Police, a tank commander in the 5th Royal Tank Regiment in 1944 and a 1917 observer in the Royal Field Artillery.

Three 78p stamps show a trooper in the Earl of Oxford's Horse from 1661, a grenadier in the Royal Regiment of Foot of Ireland in 1704 and a rifleman in the 95th Rifles from 1813.
(No, the rifleman does not look like Sean Bean.)
Posted by Robert at September 17, 2007 11:18 AM | TrackBack