August 30, 2007
Gratuitous Civil War Blegging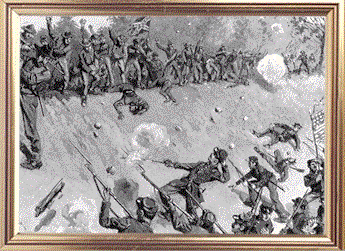 Today is the anniversary of the third and final day of the Second Battle of Bull Run (or Manassas to you Southerners), fought August 28-30, 1862.
In brief, the Union Army of the Potomac under General John Pope engaged General Stonewall Jackson's Division of Lee's Army of Northern Virginia near the Warrenton Turnpike in a fight that lasted over the first two days of the battle. In the meantime, General James Longstreet's Division hurried up from the west, arriving on Jackson's right flank in time to attack Pope on the third day. Pope apparently never saw Longstreet coming and was caught between the proverbial hammer of his flank attack and the tongs of Jackson's army to his front. As a result, the Union forces were crushed, the survivors fleeing to the east. Unlike the rout following the First Battle of Bull Run, however, the Union Army was eventually able to reorganize itself under cover of a rearguard action and march away in some semblence of order. Pope, as you might imagine, was summarily booted from command afterwards.
My bleg is this: It occurs to me that of all the major battles of the eastern theatre, I don't seem to have any books specific to this one. Anybody out there have any good suggestions?
Posted by Robert at August 30, 2007 12:24 PM | TrackBack