August 29, 2007
Say What?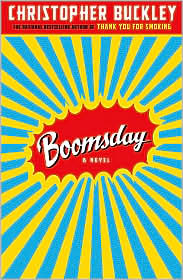 I was just over at the devil's website ordering up a copy of Chris Buckley's novel Boomsday. Scrolling down, I noticed that one of the editorial blurbs was by none other than Jessica Cutler, aka "The Washingtonienne". In her fairly faint praise of the book, Cutler says:
Yes, we know that Washington is "an asshole-rich environment," as one puts it, but some Tom Wolfe–style self-loathing might be good for characters who use the word touché.
I'm not going to rehash the, uh, back story of the Washingtonienne for those of you who haven't already peeked into that particular, ah, crack of doom, but does anybody else familiar with it find Cutler's use of that particular expression, aaah, cheeky?
Feel free to butt in!
Posted by Robert at August 29, 2007 02:08 PM | TrackBack