August 28, 2007
Semper Paratus
Mr. Skinny (age eight & 1/2) just started third grade. As part of the first week's assignments, he had to do a little project collecting five things that represented him to the class, and do a little write up for each. He picked his ribbons he won this summer swimming and at the County Fair, his favorite science fiction book (because, as he explained, he really loves science, and he loves to read 'fake' books [as he calls fiction]), a picture he drew of himself running (he's a little Forrest Gump when it comes to running), and the last two things---which counted as #1 and #2 are in the picture below: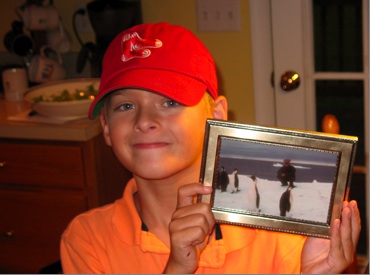 That's Mr. Skinny, wearing the Red Sox cap his Gramps got him this summer, holding the picture of Gramps as a very junior Ensign in the Coast Guard talking to some Emperor Penguins on the edge of a glacier in Antartica.
So number two in the "get to know Mr. Skinny facts" is his status in Red Sox Nation. Number one is that his Gramps was in the Coast Guard.
So, Gramps, I thought you would get a kick out of that.

Posted by Steve-O at August 28, 2007 08:36 AM | TrackBack