August 24, 2007
Happy Birthday, Big Mac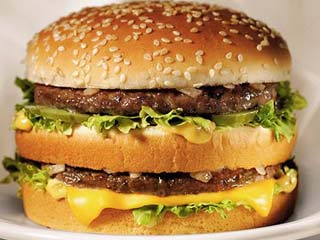 Frankly, as a general rule I've gotten kind of tired of McDonald's food since I go there so much (I have three young sons). And the devilishly manipulative "group set strategy" for the happy meal toys makes this dad most unhappy.
But I have a soft spot in my stomach for the ol' Big Mac.
When I was a kid, my parents would take us to McDonald's about every other friday night and my standard was the hamburger, fries and soda. When I was about eleven, my mom asked if I wanted to try something different. I chose the Big Mac (not that they had all that many choices at that time) and I was hooked. I swear it's the special sauce. It just brings back childhood memories whenever I indulge myself with that saucy sandwich nowadays. And now it turns out we were both "born" the same year. Eerie.
Anyone else a closeted Big Mac fan? What better time to come out than on its 40th birthday?
Yips! from Robbo: When I was a kid in San Antonio in about 1973, one of the local radio stations (55-KTSA, if you're interested - this was in the heyday of AM radio music) had a Big Mac promo. You were supposed to wear a big red button with the Big Mac ingredients on it. If one of the station people spotted and stopped you, you were supposed to recite the whole list in 10 seconds, or something like that. If you did, you won some prize or other.
Not that I ever ate Big Macs because I didn't like the sauce, but I and just about every elementary kid I knew spent a long time practicing, "Twoallbeefpattiesspecialsaucelettucecheesepicklesonionsonasesameseedbun!"
Yips! back from Gary:
I found a "buy one, get one free" coupon for the Big Mac. I went at lunch and ate them both. I couldn't help myself. Now, of course, I regret it. I used to have a friend who always said "Eating McDonald's is like masturbating. It's enjoyable at the time but you end up feeling guilty afterwards." True story.
Incidentally, I was inspired to do a little research on the "special sauce". Turns out it's not Thousand Island Dressing. Check out the ingredients:
Soybean oil, pickles, distilled vinegar, water, egg yolks, high fructose corn syrup, sugar, onion powder, ketchup, mayonnaise, corn syrup, spice and spice extractives, salt, xanthan gum, mustard flour, propylene glycol alginate, sodium benzoate and potassium sorbate as preservatives, mustard bran, garlic powder, hydrolyzed (corn gluten, wheat, and soy) proteins, caramel color, extractives of paprika, turmeric, calcium disodium EDTA to protect flavor.
I'm not feeling very well right now.
Posted by Gary at August 24, 2007 11:26 AM | TrackBack