August 21, 2007
Gratuitous Llama Vacation Mini-Book Review
Well, I had visions of great liddusher planned for my week off, but instead found myself laughing over a couple political satires by Christopher Buckley: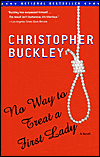 No Way To Treat A First Lady - When the President dies after a night of passion in the Lincoln Bedroom with a very thinly disguised Babwa Streisand stand-in, the Hillary-like First Lady is put on trial for assassination. An amusing insider tour of the bed in which Big Politics and the Media sleep with each other.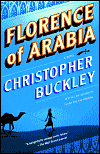 Florence of Arabia - After failing to stop the religious killing of an Arabian princess, a young State Department employee hatches a plan to start a feminist revolution in the hyper-Islamic Kingdom of Wasabi and receives unexpected help from shadowy figures within the U.S. Guv'mint.
I won't give away plots or anything of that sort here. Suffice to say that Buckley has a keen wit and a sharp knife, which he uses to effectively hamstring any and every subject within his reach. At the same time, unlike Tom Wolfe, he's not a scold. Instead, he serves up his particular brand of social satire with his tongue in his cheek and a twinkle in his eye. This perhaps leads to a certain want of gravitas in his novels, but at the same time when one is finished with them, one isn't consumed by a desire to go out and hang oneself, as is so often the case with Wolfe's more sledgehammer-like works.
Posted by Robert at August 21, 2007 10:09 AM | TrackBack