August 10, 2007
Cake For The Cure - Now With Cookies!
****Stickied to the top for this another week: Scroll down for fresh Llama bloviations****
Our dear pal Kathy, la belle dame du le gateau, has had her site hijacked by her young nephew James. James has diabetes. James is, if you'll pardon the expression, sick of having diabetes and wants to find a cure. To this end, he and his family are once again participating this year in the Omaha Walk to Cure Diabetes, held on August 11, and are looking for some coin from anybody interested in sponsoring them.
This is a good cause, people. Go on over and have a look. (There's even vids this year!) And consider ponying up as well.
Yip! Yip! Yip!
UPDATE: Kathy gives us the go ahead to indulge our favorite collective fantasy: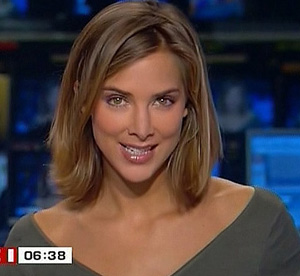 "Oh, Oui! Theese is le bon, no? Cleeek ze leeenk, si vous plait, while I stroke zee ears of zees Llamas!"
UPDATE DEUX: Okay, folks, things are starting to get interesting. Fellow Friend of the Gateau Christina has thrown down an offer: match her donation to James' Walk for the Cure kitty and she'll bake you some delicious homemade goodies. Yes! How can you resist that? Just follow the linkie for all the details.
(We Llamas thought about doing some kind of match thingy, too. However, the only prize we could think of was to spit at people, and in the end we reckoned that probably would not be very appealing.)
Yip! Yip! Yip!
Posted by Robert at August 10, 2007 11:59 PM | TrackBack