July 26, 2007
Silky Pony Rides A Bike
With Lance Armstrong. No ribbons on the handlebars though.
To warm up for RAGBRAI, Edwards rode 22 miles on Sunday in the hills of his home state, North Carolina.

"This is actually not hard, this is fun," Edwards said as he climbed a hill on County Road T16 on a black Trek road bike he borrowed for the day. "The biggest problem is my butt hurts. Is that normal?"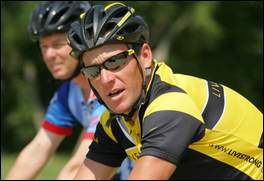 Insert off-color Coulter-esque snarky comment here. But beware of Mrs. Edwards.
Posted by Gary at July 26, 2007 12:38 PM | TrackBack