July 16, 2007
Gratuitous Royal Navy Geekery Posting
We waaaaants it........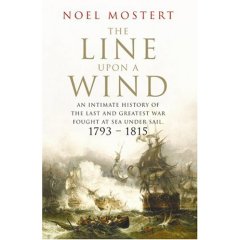 The Line Upon a Wind: An Intimate History of the Last and Greatest War Fought at Sea Under Sail: 1793-1815 by Noel Mostert.
This review in the Telegraph makes enough favorable comparisons between Mostert and the legendary A. T. Mahan that I immediately dashed over to the Devil's Website to pre-order a copy. I'll post my own review once it arrives and is consumed.

Posted by Robert at July 16, 2007 11:26 AM | TrackBack