July 16, 2007
The Founding Member of the "10,000 Club"
10,000 LOSSES, that is. Congrats to the Philadelphia Phillies who received their milestone beat-down yesterday.
The Phils have become the first - the FIRST - sports franchise in the history or...well, professional sports...to hit ten THOUSAND losses. It's like my grandmother always used to tell me, everyone is good at something.
And for the Phillies that would be losing.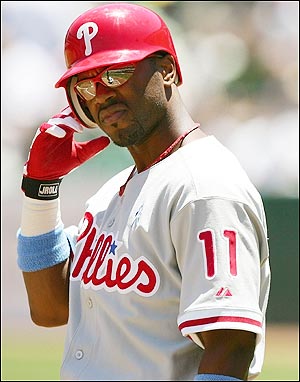 Gee, Jimmy. Guess you guys really are the team to beat.
God must have a special place in heaven reserved for these long-suffering fans.
On a side note, Mets pitcher Tom Glavine earned his 298th career win this weekend - two shy of the 300 mark. Congrats, Tom!
Posted by Gary at July 16, 2007 09:17 AM | TrackBack