July 04, 2007
Happy Independence Day!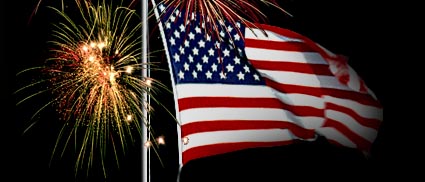 ****LEFT STICKY TO THE TOP UNTIL JULY 5****
A very happy Fourth of July to all of you out there. For ourselves, we've got the flag hanging outside and I'm going to give the lawn an extra trim so as to make it look smart. We'll then spend the afternoon watching the Nats play the Cubbies (we'll be in the lower deck along the right field line if you happen to watch the game on tee vee - self, the Missus and three maniacal gels). After that, it's over to a friend's house for bar-b-que, adult beverages and perhaps some fireworks as well.
In short, we celebrate the day by enjoying ourselves, by remembering to be terribly grateful for who we are and where we live, and by showing our pride in America. And Howard Zinn can kiss my sweet Llama backside.
DANCIN', SINGIN' FOUNDING FATHER YIPS from Steve-O: This could serve as our theme around here:
Mmmmmmmm....John Adams.
More classic Adams:
Insert Beavis & Butthead laugh here: you know, I always thought there was something hinky going on between our second and third presidents

Posted by Robert at July 4, 2007 11:59 PM | TrackBack