June 28, 2007
Leave it to the left: their scandals are always more amusing
And the American left has nothing on the Brits.
Jack Abramoff and E. Howard Hunt can't touch this:
A STUNNING American porn star was flown by cops to Britain yesterday to be quizzed in the cash for honours probe. Californian actress Courtney Coventry, 25, was grilled over her links to Labour's chief fundraiser Lord Levy.

The blonde was asked about VIP treatment he offered her when she expressed interest in making a donation to the party.

Lord Levy introduced Courtney to Tony Blair and Labour's high command at a swanky fundraising bash.

She and British-born husband John Coventry, 46, were invited to the glittering ball at the Hilton Hotel in London's Park Lane in April 2004 after they pretended to be willing to make a big cash donation.

The pair called themselves the Count and Countess of Rozel to fool party fundraisers into believing they were serious donors.

They were invited for tea at No10 the next day and taken on a tour of the House of Commons and House of Lords where Lord Levy — dubbed Lord Cashpoint — wooed them.

Courtney flew to Heathrow yesterday morning from Nice to meet cops investigating allegations peerages were awarded for £14million in cash loans used to fund Labour's 2005 general election campaign.She was met from her British Airways flight at the arrivals lounge in Terminal 1 and whisked away in an unmarked car.

Jetting in ... blonde at Heathrow

Courtney, wearing a calf- length emerald green dress with plunging neckline, covered her face when The Sun asked her what help she could be to the police.

Her reply was: "No comment". She was hustled away clutching her Louis Vuitton handbag by a plain clothes woman officer with two uniformed cops in tow.

The actress was driven to the Hilton Hotel in Green Park, around the corner from the chain's flagship Park Lane Hotel — where she was photographed with Mr Blair three years ago at the gala for rich donors.
For the sake of getting the story straight and to provide the serious journalistic context we as cyber journalists provide to you our readers, we now post this picture of former porn star Courtney Coventry: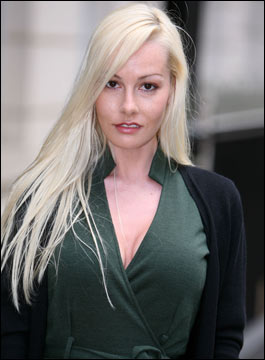 Well, that's it for me today: coming later, some indepth blogging on Bill Clinton and Tony Blair and their legacies, the imagery of dancing goats in Homeric literature, and something silly about from Fark about new laws banning jello wrestling.
Tally-ho!

Posted by Steve-O at June 28, 2007 01:51 PM | TrackBack