June 25, 2007
Hang 'Em High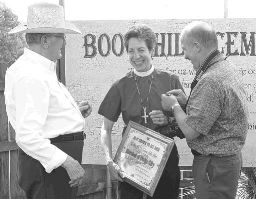 The Colossus, even though he's on vacation, still sent me this little article about the induction of Her High Priestessness Katharine Jefferts Schori as an honorary Marshal of Dodge City:
The first woman to head the United States Episcopal Church can now add another title to her resume: honorary marshal of Dodge City. Episcopal Presiding Bishop Katharine Jefferts Schori received the honor Tuesday afternoon in front of a small group of observers at Boot Hill Cemetery.

"I'm deeply honored and privileged, and I have to tell you, this is the first in my ordained career," she said as the group laughed and applauded.

Jefferts Schori joins a gallery of approximately 80 distinguished people who have been named honorary marshals, including Gov. Kathleen Sebelius, film actor Steve McQueen and former President John F. Kennedy. She visited Kansas as part of a national tour of the church's dioceses.
Okay, okay. It's a harmless bit o' puffery. But I couldn't help wondering how KJS would have handled her role as lawman lawperson back in the day. I think it would go something like this:
Skeeter: Marshal! Marshal! Th' Hoy Gang just done robbed the Wichita Stage!
Marshall KJS: Ooh. Um. Well, I'm truly excited to be a law enforcement officer at this challenging time. I think God is asking us to step back and rethink our fundamental assumptions about what constitutes meum and tuum in our modern, wonderfully diverse society. We must be patient and prayerful and not overly quick to pass judgement about who "robbed" whom, to use what I think is an antiquated and inherently biased expression.
Skeeter: But, Marshal! They was disrespekful of the U.N., too!
KJS: Get a rope!
Posted by Robert at June 25, 2007 11:41 AM | TrackBack