June 18, 2007
Gratuitous Llama Netflix Movie Review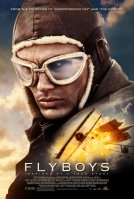 Flyboys (2006).
"Based on the true story" of a bunch of Americans who joined the Lafayette Escadrille in 1916 to help the Frogs fight the Boche, this movie basically stalls on take-off. Even rolling with the stereotypical cast o' volunteers - the cowboy running from the law, the black boxer standing up for freedom, the wastrel rich kid who needs to prove himself a man to his father, the Jebus freak - the story deals with their development so thinly and perfunctorily that you have a hard time telling them apart or even really caring much which is which. There's also a love interest, of sorts, but even that seems rayther flat and uninteresting. Seeing as this movie clocks in at nearly 2 1/2 hours, there should have been ample runway room to generate enough power to put some lift into the thing.
I suppose the big draw of the movie is supposed to be the coo-el effects. Well, I'm sorry: CGI is all very well for spaceships n' stuff, but for WWI aeroplanes it looks cheesy and artificial. Why not get some guys up in the real things to hotdog them around the sky a bit like they did for Tora! Tora! Tora!, which to this day has, I believe, the best dang aerobatic scenes of any war movie ever made. As for realism, I say nothing: Although I know a good bit about WWII aircraft, I really know next to nothing about their WWI counterparts. Judging from some of the comments I've seen, however, the film is rife with inaccuracies.
In short, Flyboys was underpowered, listless and boring. The only thing that got my attention was how much the commander, Captain Thenault (played by Jean Reno), looked like Joe Flaherty. I kept expecting (and hoping) that he would break into a Count Floyd routine.
Alas, no such luck.
Robbo's recommendation: One Yip! out of five. I suppose if you just want to see the battles - less than half an hour all told - you could fast-forward through the DVD. But even then, I'd say it's probably not worth the energy. Want WWI flyboy drama? Read Derek Robinson's Goshawk Squadron.
UPDATE: Aaaaaand, as long as I mentioned him, how bout a little bit o' the real Count Floyd?
Reeeeally scary, huh kids?
Posted by Robert at June 18, 2007 11:09 AM | TrackBack