June 18, 2007
Weekend Round-Up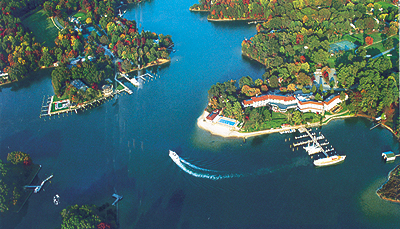 As I reported last Thursday, the Missus and I ditched the kids and lit out of town this weekend. We went down to The Tides Inn, a small but very nice resort down on Virginia's Northern Neck, an easy two and a half hour drive away. There we did the usual - rode bikes, played some croquet, sat about on the beach watching the ospreys and herons and generally loafing. Oh, and the golf balls I was wondering if I'd be allowed to hit? Well, there's a first class course attached to the inn, but you have to drive over to it and it's pretty pricey. Since I haven't picked up a club in five years, I didn't think it would really be worth the effort. On the other hand, there's a little nine hole par three course right on the grounds free to anybody who just wants to wander up and start hitting. Not only did the Missus let me play thirty six holes altogether without a murmur, she even walked round with me once. Am I a lucky dog or what?
As for other impressions of the place:
- One of the signatures of the Inn is its tame yacht the Miss Ann. She's out of commission at the moment, having apparently blown a piston, so we didn't get to go for a cruise. Nonetheless, the place is crawling with images of her - prints and the like - and for some reason I was reminded irresistably of the Louisa. I kept glancing down the channel to see if Charlie and Rosie were going to slip in and blow her up. (Only two points for getting the reference because it's an easy one.)
- I noticed a strange musickal soundtrack being piped in the gifte shoppe. It was nothing but snippets, lasting perhaps three or four seconds each, of a whole hodge-podge of different tunes, everything from Puccini to Big Band to the Beatles, endlessly repeating but never getting anywhere. Even a few minutes of it made me twitchy. I couldn't help wondering about the poor gel who worked there - I'd have gone stark raving mad by the end of my first shift.
- Speaking of musick, each night there was a guitarist out by the pool. He, too, played a variety of musick - everything from Renaissance lute pieces to light jazz - but at least he played them all the way through. And he was quite good, even though I think most people weren't paying much attention to him. (Oh, the dog's life of the average professional musician.) Anyhoo, I got talking to him about some of the lute musick he was playing and he mentioned that Sting, of all people, has recently released an album of the musick of John Dowland. A quick peek at the Devil's Website reveals that he has indeed done so. While I personally wouldn't buy it, since I doubt seriously whether Sting's interpretation of Elizabethan musick is really worth bothering, I still find this to be pleasing. Who knows how many people might get interested in the real thing after having heard this?
- The only drawback to the weekend was the fact that a wedding reception was held at the Inn on Saturday evening. We discovered that one of the wedding guests had been given the room above ours at, ohhh, about two thirty Sunday morning when he and a lady friend arrived back there and proceeded to carry on their own private, em, tribute to the conubial bliss of the occassion, complete with a good bit of stomping, splashing (from the tub), and unoriginal although seemingly sincere dialogue. A call to the front desk quieted them down only for a few minutes. The incident awoke the Long Island blood in the Missus, and Sunday morning she had a few choice, albeit polite, words for the concierge on the advisability of mixing in wedding guests with other patrons.
All in all, though, a very pleasant time. And we'll no doubt go back.
Posted by Robert at June 18, 2007 09:23 AM | TrackBack