June 08, 2007
Random Bibliophilic Noodling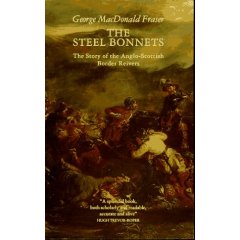 So I'm starting in on George MacDonald Fraser's Steel Bonnets: The Story of the Anglo-Scottish Border Reivers, a history of flat out Social Darwinism in its bloodiest form, and a nagging thought has planted itself in my mind.
You see, my library has two sets of shelving, one on each side of the room. I keep all of my fiction on one side and all of my non-fiction on the other. (I also try to break things down further by author, chronology, subject matter and other criteria.) I happen to have a great many books by Fraser (the full set of Flashman Papers and a few other works), but Steel Bonnets is the only non-fiction book of his I own.
This poses a bit of a puzzle.
If I put this book with all the other Frasers, I violate the fiction/non-fiction split.
On the other hand, if I put this book over on the non-fiction side (in the European History section), I'll violate the rule about keeping all of a given author's works together.
One solution I thought of was to purchase some other of Fraser's non-fiction works, the better to balance things out. The trouble is that most of what's available concerns his WWII service in Burma and his time as a writer in Hollywood. Even though this is non-fiction, it still wouldn't fit into the 16th Century shelf.
Another solution is simply to leave Steel Bonnets among the floating collection of volumes scattered all over the various tables in the library. These surfaces represent a kind of uncatalogued Sargasso Sea of whatever I happen to be dipping into at the moment. The trouble here is that the Missus has recently started making waves about the number of books lying about. (She and I have very different opinions on whether a "cluttered" library is a good thing.) I fear that if I leave SB out, I might walk in some day to find that it's been tidied into oblivion.
What to do, what to do.
Oh, and speaking of this book, which has to do with lawless, might-makes-right savagery and terror, what do you suppose the odds are that Joss Whedon had these folks in mind, at least to some extent, when he named his own Reivers for in the Firefly series?

Posted by Robert at June 8, 2007 01:46 PM | TrackBack