May 25, 2007
Fear And Loathing In Agawam, MA
Tomorrow morning it's off to Six Flags New England, where the new "Wiggles World" theme area will be the site of an appearance by the actual Greg, Murray, Jeff and Sam. I expect Captain Feathersword will be there too.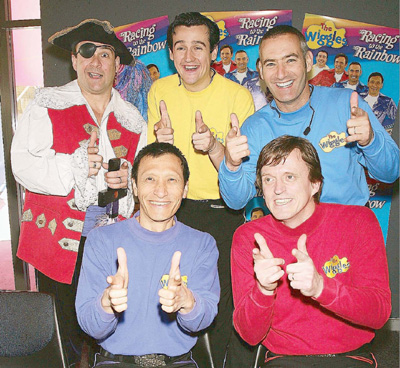 Doesn't Sam look a little too much like Fred Savage?
Now since the opening of Six Flags New England in 1999, I've visited the park twice. My fondest memories of the place were pre-Six Flags when it was plain old Riverside Park. As a kid, going to Riverside was a major highlight of any given summer.
Now? Eh. I can't ride half of the rides because they make me want to puke. My tolerance for the heat of the summer sun has seriously waned. The crowds are intolerable. And everything is ridiculously overpriced. Usually, I'll put up with all of that for a trip to the Mouse House of Mordor in Orlando. But I could never rationalize frequent trips to this place.
Until now, of course. The opening of the Wiggles World area sealed the deal for the Mrs. (also known as the family Entertainment Director). Now, I've got season passes. And tomorrow I'll be enduring just the first in what I'm sure will be a summer full of minivan rides to Agawam, Massachusetts.
Remember me while you're drinking and grilling this weekend.
Damn you, Wiggles!!
UPDATE (5/27):
I'm back. I'm O.K. Though I've learned not to push down on the lap bar for "Superman: Ride of Steel" too hard before taking off. Apparently (at the end of the ride) the car ahead of us was full of hurl and needed to be cleaned out before we could disembark. Sitting in the hot sun with one of your nuts feeling like it's about to rupture is NOT a pleasant experience. Next time I'll sacifice a wee bit of safety for the ability to move the boys into a more comfortable position. Yikes.
Posted by Gary at May 25, 2007 03:30 PM | TrackBack