May 24, 2007
"Life Moves Pretty Fast..."
"...If you don't stop and look around once in awhile, you could miss it."
Alas, such a philosophy is apparently lost on this poor girl:
A schoolgirl is believed to have created a record by never having a day off in 14 years.

Since starting her education at four, Michelle Boorman, 18, has turned up for lessons on 2,660 consecutive school days.

Other children would bring in sick notes to Newlands Primary School in Ramsgate, Kent, but not Michelle. Nor did she at Clarendon House Grammar School in Ramsgate.

"There is no secret as to why I have not had a day off sick in the whole of my school life," she said.

"I love school so have never been tempted to have a day off or use feeling unwell as an excuse not to come in.

"I have been lucky with my health, but if I have a cold or feel ill, coming to school helps as it takes my mind off it."

Jane Bennett, head of Clarendon House, said: "I have never come across someone with Michelle's attendance figures. I doubt if any teacher has because it is quite remarkable."

Michelle's mother Vanessa said: "If she gets a cold she works through it. When Michelle has been ill, it has been during school holidays."

I know of someone she really needs to talk to: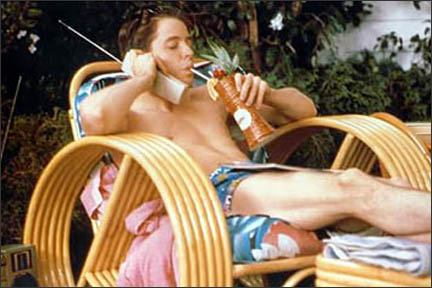 "Michelle, sweetheart. What's happenin'?"
Hell, I'm thinking of blowing off work tomorrow myself it's so beautiful outside.
SAVE FERRIS!
Posted by Gary at May 24, 2007 12:29 PM | TrackBack