March 07, 2007
Gratuitous Musickal Posting (TM)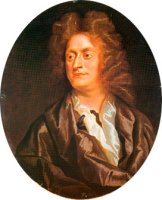 Happy birthday to Henry Purcell, born (maybe) this day in 1659. Arguably the greatest native English composer ever to live, he served the Court under Charles II, James II and William III.
Purcell produced a surpisingly wide range of works - everything from sublime anthems and canons to extremely lewd tavern rounds - as befit the go-go ways of the Restoration. One of the hallmarks of his style was an intense use of chromaticism. In his vocal works, he also was well known for his supreme skill in making his music meld with the text. (He collaborated with the great poet John Dryden to produce stage works such as the semi-opera King Arthur.)
Purcell died in 1695 at the age of only 36.
Posted by Robert at March 7, 2007 03:06 PM | TrackBack