February 05, 2007
Sooper Bowl Wrap
Well, congrats to Indy, I guess. I really didn't have a dog in the fight but had sort of been hoping that Chicago would win. At least it wasn't a blow-out and although I was predicting a Colts win at half time, Da Bears could have pulled it out.
I watched the game with the eldest Llama-ette. (What better way to get a kid involved than having the opening kick run back for a touchdown, btw?) We had a great evening together, especially after half time when the other two (who had got up their own ad hoc cheerleader squad) went to bed. Money quote: "Dad, those announcers say everything right after you do! How cool!" She took quite a keen interest in the art of getting one's feet down in bounds on a side-line catch owing to that challenge by Dungy in the first half. And by the time Grossman got picked the last time, she knew very well what is meant by "throwing a duck."
As for the peripherals, we both agreed that Billy Joel sounded awful and Prince was ridiculous. She also didn't like all the "drama" surrounding the little recap montages at each of the commercial breaks. And speaking of commercials, she laughed heartily at the beer ones (especially the rock, paper, scissors bit) and the Fed Ex moonbase one, but was fairly indifferent to the others. I felt more or less the same way.
[Hit "Rant On" button.] It might have only been in the Dee Cee market, but late in the 3rd quarter there was an anti-war ad from some Surrender Dubya! moonbat outfit. It featured a handful of vets (one without a hand) voicing their opposition to the surge and argued that because they did, all soldiers do and therefore, that if one really supports the troops, one must be against the surge. Frankly, I found the whole thing quite disgusting. Further, not only did it look as if it had been filmed in somebody's garage, it was staffed by people who looked like, well, the kind of people who would make crude anti-war commercials for the Super Bowl. Frankly, they came across as a gang of whiners, something which I don't suspect would sit too well with the kind of audience still likely to be watching the game deep into the 3rd quarter. So with any luck, maybe their message backfired. And if they blew their entire budget to get it on the air, so much the better. Bastards. [Hit Rant "Off" button.]
Anyhoo, all in all a pretty good game, the best part being watching with the gel, who stayed snuggled against my side the entire time, asked intelligent questions, appreciated all the thrills and spills and thoroughly enjoyed herself. It got me thinking ahead to lazy summer evenings - only 55 days to go!
UPDATE: Oh, yeah - we got a kick out of the Robert Goulet/Emerald Nuts ad, too.
UPDATE DEUX: John J. Miller has a link to the anti-war ad over at The Corner. He thinks it only ran locally, too.
Yips! from Gary:
No "wardrobe malfunction" in the half-time show (thankfully) but I'm surprised that there's been no mention around the net about this: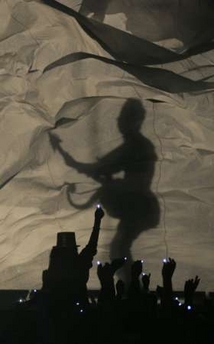 Ahem.
Posted by Robert at February 5, 2007 09:09 AM | TrackBack