January 31, 2007
There Goes The Neighborhood!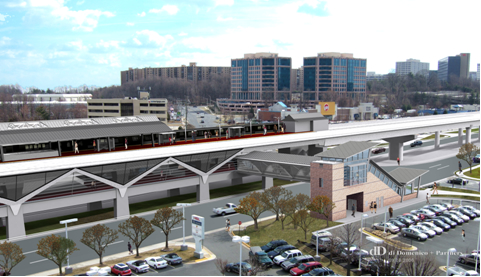 The proposed Tyson's West Station at the corner of Spring Hill and Route 7.
The Tyson's Tunnel project is now completely dead.
Those of you around Dee Cee will know of what I speak, but for everybody else, this ties in with the planned extension of the Metro out to Dulles airport. The route goes right through Tyson's Corner and Reston, two very heavily populated NoVa hubs.
As originally planned, the Tyson's part of the track was to be elevated. But nobody in the area (self included) wanted this, owing both to the horrendous strain construction will place on an already overloaded traffic coridor, to say nothing of the effect the thing will have on the efforts to turn Tyson's into a new, pedestrian-friendly downtown. Enough flak was generated that the state agreed to look at the tunnel alternative. Its investigative panel came back and agreed that the tunnel plan would work. Nonetheless, this idea was shot down by Gov. Spineless Kaine under pressure from the Feds on the grounds that it was too expensive.
Recently, a grassroots organization called TysonsTunnel made a last ditch effort to change Richmond's mind, delivering a monster feasibility study that purported to demonstrate that the tunnel option would be cost effective and retouting the obvious traffic flow and aesthetic arguments as well.
All to no avail, apparently.
Jaysus, what a mess this is going to be. The tracks will come right up Chain Bridge Road, cut straight through the heart of Tyson's and then head west on Route 7. (Here's a PDF map, if you're interested.) I have to use these roads all the time (Orgle Manor being quite nearby) and already loathe them. Construction is going to make the Springfield Mixing Bowl look like a walk in the park by comparison.
Posted by Robert at January 31, 2007 11:23 AM | TrackBack