January 30, 2007
R.I.P. Charles Stuart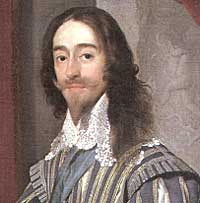 On this day in 1649, Charles I, King of England, Scotland and Ireland was murdered by Parliament at Whitehall.
Perhaps my very favorite Sherlock Holmes story is "The Musgrave Ritual," not because it is particularly exciting or devious, but because its subject matter ties directly back to this event:
'Whose was it?'
"'His who is gone.'
"'Who shall have it?'
"'He who will come.'
"'Where was the sun?'
"'Over the oak.'
"'Where was the shadow?'
"'Under the elm.'
"How was it stepped?'
"'North by ten and by ten, east by five and by five, south by two and by two, west by one and by one, and so under.'
"'What shall we give for it?'
"'All that is ours.'
"'Why should we give it?'
"'For the sake of the trust.'
No spoilers here, but once you read the story, you'll see the connection. It gives me the chills.
(Okay, so I'm a Cavalier sympathizer. But you probably knew that already.)
UPDATE: Here's a link to the Society of King Charles the Martyr. Charles was canonized at the Restoration for his sacrifice made on behalf of the Church of England, but lost his status during the reign of Queen Victoria. The Society was founded in 1894 in order to preserve the rememberance of Charles' day of martyrdom and to urge the reinsertion of his Feast Day into the Book of Common Prayer.
Posted by Robert at January 30, 2007 01:42 PM | TrackBack