January 29, 2007
Slow news day on Yahoo, I guess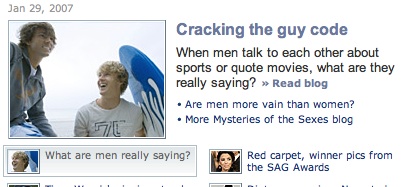 Hate to break it to you, Dr. Phillys, but we're talking about....sports and movies.
The other thing we talk about? Youtubed fake movie trailers, like this one which turns the Geico Caveman commercials into a post--When Harry met Urg sort of thing, with a Matt Damon twist at the end.
Of course, we all know where that's going: some enterprising lad is going to give the Geico caveman guys the full Brokeback fake trailer treatment.
This one is good:

But this one is the best, the infamous gay robots of Star Wars:

Geico Cavemen, you are indeed next.
Posted by Steve-O at January 29, 2007 12:57 PM | TrackBack