January 29, 2007
That's My Church!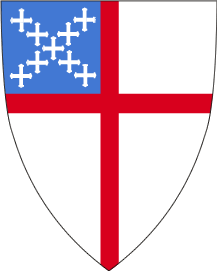 A couple of people asked me this weekend, "Regis, what is your opinion of the election of Shannon Johnston to eventually replace Peter Lee as Bishop of Virginia?"
I had to confess that I've got nothing. On the one hand, the guy's spent the last twelve years as a rector in Tupelo, Mississippi, so I'd have to imagine he can't be too much of a fruitbat. On the other hand, well, you simply don't get elected bishop without the correct political creds. We shall see, I suppose.
What grabbed my attention about this past week's Annual Council was this little gem:
Delegates to council adopted a number of resolutions, including a resolution to recommend that the Bishop appoint a commission to discern a possible "emerging consensus" regarding the permitting of "local option" on the parish level for the blessing of same sex unions. Other resolutions addressed day laborers, the resolution process, the Millennium Development Goals, support of faithful Episcopalians and a companion diocese study.
Now I'm just a simple soul, but I was under the vague impression that the Windsor Report specifically put the ECUSA on notice to at least temporarily halt this sort of thing until the Communion as a whole could thresh it all out. I was also under the impression that, in the face of the ongoing secessionist fight, we were all for Law and Order and Precedent in the Diocese at the moment. Evidently, that only counts when it looks as if the Bish's coffers are going to get nicked.
Incidentally, I've noticed that the indoctrination has been ramped up a bit as of late. Yesterday's gospel was the famous "Physician, heal thyself" passage from Luke in which Jesus goes back to Nazareth and almost gets himself hurled off a cliff by the inhabitants. The Rector took this as a basis for a discussion of anger generated by fear of change, suggesting that people who had such feelings really needed to get over themselves so that they could "grow".
Oh, and at the Adult Forum we had a history lesson on the origins of the Anglican Church. Did you know that fellahs like Cramner and Hooker were really interested in being as inclusive as possible, just like the Church is today? Yes! In fact, although it wasn't said so, I'll bet they were really fronting for ol' Queen Bess herself. (After all, she never married. And I'll bet Dudley was just her beard.)
UPDATE: Of course, lest we get too wrapped up in brooding about our own woes, every now and again we get a reminder of the tailspin the C of E is in as well:
A Church of England bishop is to preside at this country's first "U2-charist", an adapted Holy Communion service that uses the Irish supergroup's best-selling songs in place of hymns. In what is more rock concert than Book of Common Prayer, a live band will belt out U2 classics such as Mysterious Ways and Beautiful Day as worshippers sing along with the lyrics, which will appear on screens. The atmosphere will be further enhanced by a sophisticated lighting system that will pulse with the beat, and striking visual images of poverty and drought.
Although evidently, the ECUSA is at the bottom of this one also:
The idea was devised by the Rev Paige Blair, an American Episcopal priest in York Harbor, Maine, who held the first service in 2005. Since then, she has advised about 150 churches on U2 Eucharists in 15 states and seven countries.

"Bach and Handel were the popular music of their day, and they had trouble getting played in church," she has said.
That sound you hear is poor old Johann Sebastian spinning in his grave.
Posted by Robert at January 29, 2007 09:29 AM | TrackBack