January 27, 2007
Gratuitous Domestic Posting (TM) - Outdoor Division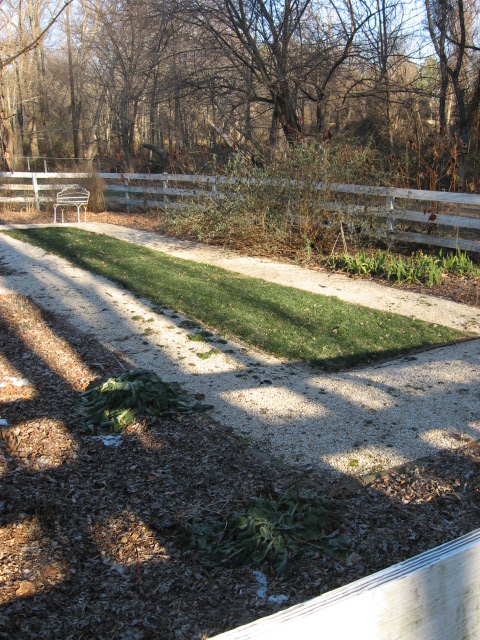 The expansive Orgle Manor Gardens in mid-winter slumber.
The Buddleia known as "Kong" dominates the back border.
Yesterday being too damn cold to go outside at all, I put on some Jelly Roll Morton and flipped open the latest Park Seed catalog to see about ordering some new specimens.
In general, it's going to be more of the same, with some additional varieties of coneflower and butterfly weed and the return of the hollyhocks. However, I'm also planning to introduce some catmint and wild indigo.
Also, although I'm probably going to regret it, I plan to have another go at some lupines. I say regret because it's really too hot here for them. I managed to grow them at our old house, but they weren't especially happy. However, I happen to love them and this time I am sticking with a variety that at least purports to be more heat-tolerant than the usual Russell variety. As they say, we shall see.
I also had the brilliant idea this year of designating some small patches of the garden for the exclusive use of each Llama-ette. I'm thinking of starting them out on something easy to grow, such as dwarf sunflowers or zinnias.
Anyhoo, now that I have my new camera toy, I look forward to being able to show you what I'm doing instead of just yapping about it.
UPDATE: Oops, forgot to mention the new rudbeckia variety I'm trying.
BTW, I read somewhere or other that Buddleia is now classified as "invasive" and is therefore, according to the eco-sensitive, bad. However, it's recognized as a magnet for butterflies, bees and whatnot, and so, also according to the eco-sensitive, is good.
What's a gardener to do?
Posted by Robert at January 27, 2007 09:25 AM | TrackBack