December 27, 2006
Yoicks! Hark Forrard!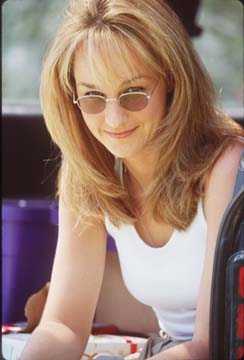 Some news to warm my old Tory heart out of the U.K.:
Hunting supporters yesterday proclaimed their biggest-ever Boxing Day turnout, two years after the sport was supposedly banned.

Some 314 registered hunts set out, using legal exemptions allowing hounds to flush foxes to birds of prey and to guns, and the hunting of artificial trials.

Supporters in Hadleigh, Suffolk, demand the repeal of the Hunting Act
The Countryside Alliance estimated that 320,000 people attended hunt meets, some 45,000 more than usual.

The number of packs was swelled by the Dumfriesshire and Stewartry, which has re-formed for the first time since 2002, and a private pack, the first new mounted pack for 25 years, established by Roddy Fleming, a financier and a nephew of Ian Fleming, the creator of James Bond.

Some 200 gathered at the Murray Arms, Gatehouse of Fleet, to support the hunt. Jamie Blackett, the chairman, said: "The support shows why we had to restart the hunt and why I'm confident we will be out for many years to come".

Simon Hart, the chief executive of the Countryside Alliance, joined a crowd of 700 supporting the South Pembrokeshire hunt at the Cresselly Arms in Pembrokeshire. He said: "This is the second Boxing Day since the Hunting Act came into force and hunting has shown that it will not be broken by the ban. The Act's eventual repeal is becoming inevitable. It creates problems for everyone from huntsmen to police."
Just when I convince myself that the land which had produced Elizabeth, Wellington, Churchill, Thatcher and others too numerous to count has finally withered away to nothing but "Cool Britannia" ash blowing about the cold streets of Londonistan, I'm reminded that the truth is there'll always be an England.
UPDATE: Welcome Mary Katharine Ham readers!
Mmmmm.....MKH Linky Luv......Mmmmmm........
Posted by Robert at December 27, 2006 03:22 PM | TrackBack