December 14, 2006
Gratuitous Mr. Wu Posting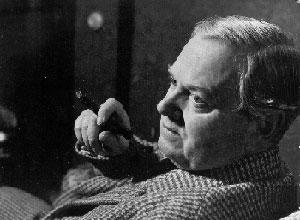 A reprint of Joan Dideon's 1962 National Review piece on Evelyn Waugh's Sword of Honor trilogy. A sample:
Every real American story begins in innocence and never stops mourning the loss of it: the banishment from Eden is our one great tale, lovingly told and retold, adapted, disguised and told again, passed down from Hester Prynne to Temple Drake, from Natty Bumppo to Holden Caulfield; it is the single stunning fact in our literature, in our folklore, in our history, and in the lyrics of our popular songs. Because hardness of mind is antithetical to innocence, it is not only alien to us but generally misapprehended. What we take it for, warily, is something we sometimes call cynicism, sometimes call wit, sometimes (if we are given to this kind of analysis) disapprove as "a cheap effect," and almost invariably hold at arm's length, the way Eve should have held that snake.

It is precisely this hardness of mind which creates a gulf between Evelyn Waugh and most American readers. There is a fine edge on, and a perfect balance to, his every perception, and although he is scarcely what you could call unread in the United States, neither is he what you could call understood. When he is not being passed off as "anachronistic" or "reactionary" (an adjective employed by Gore Vidal and others to indicate their suspicion that Waugh harbors certain lingering sympathies with the central tenets of Western civilization), he is being feted as a kind of trans-Atlantic Peter DeVries, a devastating spoofer who will probably turn out really to be another pseudonym for Patrick Dennis.
The rest is here.

Posted by Robert at December 14, 2006 02:03 PM | TrackBack