November 22, 2006
That's My Church!
In response to my post of yesterday about the latest PC pogram in the Episcopal Church on the part of newly appointed High Priestess Katherine Schorri Jefferts, Fr. Christopher of Apostolicity sent me this recent pic of Her Grace: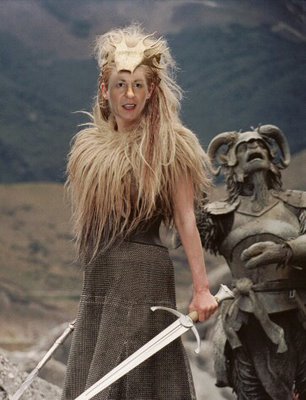 Heh.
Along those lines, I note that this coming Sunday is known in the Church as Christ the King Sunday. This got me wondering again: How much longer must we endure these outmoded titles, relics of an exploded feudal system built on the backs of the Oppressed? I mean, it's like soooooo hierarchical! Instead of Jesus being the "King of Kings" or the "Prince of Peace", shouldn't we develope some more relevant and inclusive titles?
How about "Supreme Hugging Machine"?
Or "Our Maximum Buddy"?
Or, simply, "Snuggles"?
I hope Her Presiding Bishopressness gets right on this.

Posted by Robert at November 22, 2006 02:33 PM | TrackBack